International news
---
Earthquake Indonesia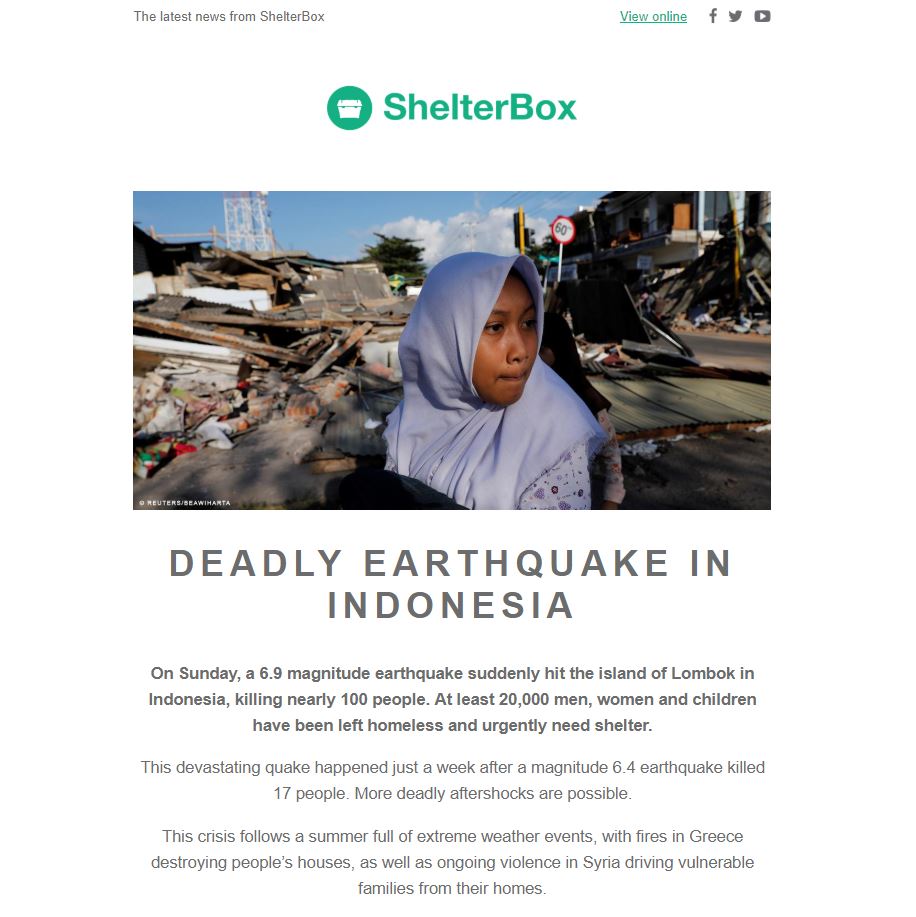 August 17 – ShelterBox is delivering aid to families in Lombok who have lost everything in the recent earthquakes.
We are still assessing, and hope to provide tents and tarpaulins to help local families start to rebuild their lives. Our volunteer Response Team in Indonesia, Liz Odell from the UK and Brian Glenn from the US, have been working with the local government and Rotary contacts. Rotary teams will be helping our volunteers deliver the aid into the hands of the families who need it.
August 14 – According to the most recent government reports, nearly 400,000 people are displaced, with more than 67,000 homes damaged.
There have been nearly 600 aftershocks.
August 10 – According to the latest government figures (9 August), 259 people have died and over 1,000 have been injured. There are over a quarter of a million peple (270,168) who are internally-displaced, and over 64,000 homes have been damaged, along with 429 public facilities.
There has been a total of 362 aftershocks, including 18 significant earthquakes. The last large aftershock recorded was of 6.2. 
We are sending a team made up of volunteer ShelterBox Response Team members – Liz Odell from the UK and Brian Glenn from the US. They will be arriving on Saturday. They will be working with local Rotary contacts and authorities to understand how we might be able to help. We have stock regionally that may be able to use. 
August 7 – There has been another significant earthquake in Indonesia.  A magnitude 6.9 earthquake occurred on 5 August 18:46 hrs (UTC +7). The epicentre was in the area of West Nusa Tenggara Province.  The earthquake was felt on the islands of Lombok, Bali and Sumbawa.  
At least 91 people are confirmed to have died, with most reported to have been killed by falling buildings. Thousands of people have been displaced, with initial reports say that around 3,000 homes destroyed. These facts are likely to change because the power and mobile phone networks across the affected islands are damaged, meaning that reporting is difficult.  
About our work 
We are sending an assessment team to Lombok. Two ShelterBox Response Team volunteers will be there by the weekend. The team will be working with local rotary contacts and liaising with local authorities to understand how we can help. We have stock in the region which we can use to help families if it is needed. 
There have been aftershocks happening across the region and we will be monitoring the impact of those. 
July 30 – A 6.4 magnitude earthquake in Kekalok, a small village on the island of Lombok, has damaged over 1000 households. At least 14 people have died. We're monitoring the situation to see if and how we can help families who have lost their homes.  
There has not yet been a call for international assistance. The assessed needs are being met by the government.  
Our teams are on standby and if needed will mobilise to help families who may have lost their homes, possessions, even family members, loved-ones and friends. 
We have Shelterkits propositioned in Subang, Malaysia ready to help families if needed – containing tarpaulins, building tools, blankets, water filters, solar lights and cooking equipment. These are some of the essential items that families need to survive and start the recovery process.